At the Lighthouse Inn, we promise you the comforts of home, no matter what lake view motel room you choose to stay in or how long you stay there. Expect everything to be clean from top to bottom, tidied and welcoming. Make your room reservations in Storm Lake, IA today and see why guests leave feeling refreshed, renewed and happy with their stay!
We have 24 room reservations in total, with accommodations for groups of all sizes. From single individuals to entire families, we'll make sure everyone has a place to rest their head and relax in comfort. Here's what you can expect from your stay:
Unique charm:

Any motel can advertise great prices or amenities, but few are able to match the unique charm of Lighthouse Inn! Our rooms are imaginative and thematically decorated, to give you a one-of-a-kind lodging experience. Stay in the Red White Blue room, BVU room, Agriculture room or any number of other themed rooms. We promise you'll love the décor and the ambiance that comes with it!

Modern amenities:

Our room reservations are equipped with everything you need to enjoy your stay, no matter how long you're with us! Our non-smoking rooms are kept tidy and clean, with fresh linens and toiletries stocked at all times. We also have lake view motel room options with refrigerators and microwaves, for guest enjoying longer stays.
Great perks: Our goal is to make sure you're as comfortable as possible, which means providing all the little extras you need. This includes laundry service, daily coffee and ice, free Wi-Fi and even electric car charging stations outside!

Affordable rates:

Join us for an overnight stay, a few days, a week or even longer! No matter the duration of your stay, we promise affordable rates that are more than justified by the comfort and quality you'll experience. Our accommodations in Storm Lake, IA are also more affordable than other local lodgings, making us a great destination to get the most bang for your buck!
Room 34
This newly renovated lake view motel room features a queen bed, loveseat and a convenient kitchenette – perfect accommodations for our longer term guests!
Room 35
This hunters-themed room offers two queen size beds, updated appliances, and a TV with Roku streaming. This room is your home away from home when you are on a hunting or fishing trip.
BVU Room
Whether you're a BVU Alumni or a fan of the Beavers, our BVU room is great for homecomings, reunions, and all other Beaver-related events and activities. Featuring two queen beds, a sofa, and a modernized 1960s kitchenette, this room will be certain to make your visit relaxing and enjoyable.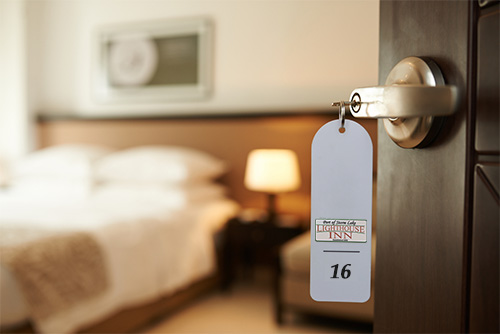 What are you waiting for?
Book your stay at Lighthouse Inn and get ready for a lodging experience that's warm, welcoming and fun!
Contact us today at 712-732-5753 to make room reservations the next time you're coming through Storm Lake, Lakeside, Casino Beach, or Buena Vista County, IA and looking for things to do.